Like many of the attractions on Clifton Hill, I've been to Dinosaur Park Miniature Golf lots of times (perhaps a dozen). I went when it was located right on Clifton Hill (before Boston Pizza and the Great Canadian Midway came along), and have played it in its current location. I've always thought the grounds were nice, but for some reason this time I was very impressed. Perhaps it is just the age of the place, and the plants are maturing nicely, but it was gorgeous! We were there on a nice clear evening. It was still warm out (but not too hot in the shade), and there weren't many people on the course.
I was also very impressed with the dinosaurs. I don't think there are any new ones, but they look very good. I think I posted or tweeted last year that some work was being done on them. Well, whatever they did, the dinosaurs look fantastic. Of course, I don't know what real dinosaurs look like, but these ones look pretty real.
If you haven't been for a while, it may be worth another visit. Also, with the new course being built behind the Niagara SkyWheel, I don't know if there will be then three courses, or if either Dinosaur Park or Galaxy Golf will be dismantled.
As always, you can see some of the thumbnails below, and you can see all of the full size images in the Dinosaur Park Miniature Golf in Spring 2010 gallery.
Note: There are now 3,038 images in 244 galleries.
I also made a video of some of the course and the beautiful surroundings. I filmed it in HD, so be sure to look for that when you watch in on YouTube. You can also see the video embedded below.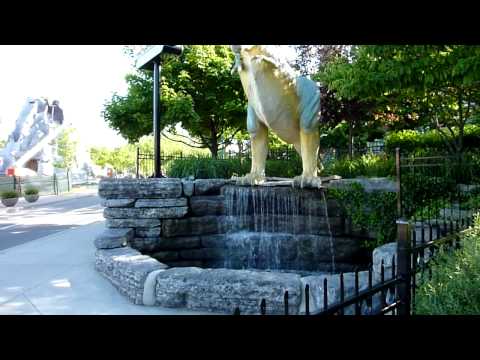 Tags: boston pizza, dini park, dinosaur park miniature park, dinosaurs, Galaxy Golf, great canadian midway, mini golf, mini-putt, miniature golf, niagara skywheel, pictures, videos, youtube