There are a lot of things to do in Niagara Falls. You really can't do everything in a day, or maybe even two or three days. But there are a few things that are definitely worth the trip. Bird Kingdom (formerly Niagara Falls Aviary) is one of those places you should definitely check out.
Along River Rd, just to the north of the Rainbow Bridge is the old Niagara Falls Museum. After being closed for many years, the property was bought and turned into the Bird Kingdom (Niagara Falls Aviary) in 2000.
You enter at street level into a beautiful gift shop. You get your tickets and then head upstairs to the first floor. That is where you enter the Encounter Room. There are birds, snakes, lizards and more out on display. Depending on the time of day, you can see them being fed, and at almost any time you can hold one of the creatures. The girl that was working the encounter room when we were there was incredibly nice, and was very helpful. She got the Kookaburra to make noise (the first part of the video below) and helped my two sons hold on exotic bird. They were thrilled.
You then head up another level where you go into the Small Aviary. This is a small room (about the same size as the encounter room) where small birds are flying free. The room is setup with dirt, trees, water, and other food for the birds. It is beautiful. As the little birds zip through the room you almost worry that you are going to get hit!
Next comes the Nocturnal Room. You can see some insects, lizards, reptiles, and bats in this room. There is also a small sand area where kids can "dig" for artifacts.
Lastly is the Main (large) Aviary. This is the main part of the Bird Kingdom, and it really does look like a kingdom! There is a 40-ft working waterfall, an authentic Javanese Tea House, and a Lorikeet feeding area. The walkways and decor make you think you are walking through some tropical ruins. I've been a few times over the years, but every time I walk into the Main Aviary I always comment how gorgeous it is!
While we were in the Main Aviary, we stopped and fed the Lorikeets. If you've never done this before, you should give it a try. It only costs a couple of dollars, and you are given a sweet nectar in a small cup. The birds flock around you and sit on your arms, hands, shoulders, and sometimes even your head in order to get the nectar. It's a lot of fun.
Even though the place is filled with birds, it is remarkably clean. You do need to be careful though. My 9-year-old son got dropped on twice by birds, and then put his hand in some another time. We all thought it was pretty funny. At first he was annoyed, but by the time he put his hand in it, he just grinned and laughed.
I took a lot of pictures while we were there. As always, you can see some of the thumbnails below, and you can see the rest of the thumbnails and the larger images in the Bird Kingdom in Summer 2012 gallery.
As a side note, the Niagara Falls Image Gallery now has 3,498 images in 268 categories.
I also took a few videos. I've put them all together into one 2-minute video. You can see a the birds, lizards, and scenery in HD in the Bird Kingdom (Niagara Falls Aviary) in Summer 2012 video, or you can see it below.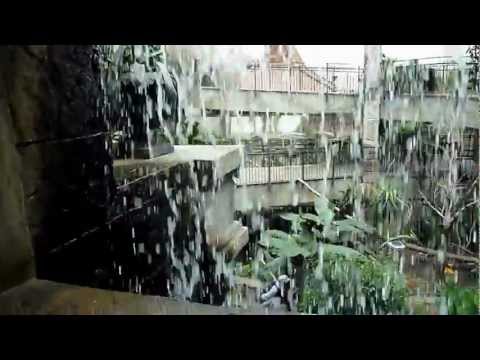 Tags: artifacts, bird kingdom, encounter room, exotic bird, javanese, kookaburra, little birds, lizards, main aviary, niagara falls, niagara falls aviary, niagara falls museum, rainbow bridge, reptiles, river rd, small aviary, small birds, snakes, waterfall